So, here's kind of the oldest "official" art of Wren. I say kind of, because older drawings exist, but they don't survive.
Wren was created because I needed a lone wolf wanderer to explore a setting I had just devised by extrapolating from earlier stories I had told my siblings. The last set of stories I'd worked on with a lone-wolf wanderer had starred a reformed supervillain dude, so I wanted to change things up, make it a girl with zero tragedy in her backstory.
Wren canonically is a privateer. She got a scholarship to mystic knight school because she was competent and tiny (mystic knight armor is more powerful on small people because it has to devote less energy to covering them. Kinda like tiny people being sought out as jockeys in the real world). But she dropped out of mystic knight school. Her outfit was designed in the story to be pragmatic and something you might see on a wizard/pirate. In the stories, I didn't get too specific. Boots. Belt pouches for holding her Aether Arts (which are stored as crystals). A couple of knives forged by her crippled brother. A bucklet, which is a glove designed for wizardry.
When I got around to drawing it, I of course went the exposed navel route because I was single and lonely. I am no longer single and lonely, but there it is.
The first time I converted Wren to pixel art sprite form, this happened:
All the details make it into the sprite. But it's too much. It's confusing and disjointed. Her jacket looks like it could be pauldrons or, you know, Cap'n Cruch cereal boxes glued to her upper arm. It's not clear. So the character was simplified dramatically.
This outfit was significantly better to animate. Arms and legs are separated out and easy to see. It works for the same reason Mario wearing overalls works.
In my head, this was a streamlining needed for animation and because the sprite was so small. She still canonically wears the jacket. In fact, she probably wears a full on tank top rather than just a scarf around her bosom. As you can see in the first cover I made for a potential Wren book:
She's a privateer who operates out of an airship. Well, an airboat anyway. Very steampunky. Look, I gave her goggles! The goggles aren't in the sprite. Too much detail, make it hard to read.
Around this time, I also got it in my head that instead of making her a pair of daggers, her brother made her bucklet, and in fact, a pair of bucklets that have a built in ability to generate crystal swords. They serve the same purpose
Anyway, in the one story I wrote, Wren acquires a shevlar harness. It's a suit capable of generating armor. Feeling less and less justified in drawing Wren as half naked, I started drawing her with the harness on instead.
In the stories, she's not described as half naked. She's not trying to show off her physique or attract a mate. (In the stories, she's not even particularly attractive. She's a 5 or maybe a 6. Mind you, she's a 5 or maybe a 6 in a culture that isn't morbidly obese like ours…)
She's just out there with a houseboat hunting monsters and pirates for bounty. Presumably, since she runs her boat alone, she spends a lot of time in warmer climes wearing nothing from the waist up but a sports bra to keep her bosom from bouncing painfully as she battens hatches and trims sails, but also presumably she puts a shirt on when it get cold out or she flies to town for supplies.
When I realized I wanted to make a Wren RPG, I defaulted to the sprite-based design, though. For two reasons: I enjoy drawing half naked women, (who doesn't?) and again, it's well optimized for animation.
But, slowly building up was something of a crisis of conscience. I'm not trying to appeal to the coomers. Frankly, I don't need to: if a Wren-based RPG takes off, they'll generate their own art without my help. Also, I wanted the design to be fundamentally true to the character.
Wren is not discount Shantae. She doesn't exist to be shameless. She exists to be a wandering do-gooder loner. I've focused on her because I like drawing her and my wife wants more stories about her and she is well suited to the micro RPGs I want to make. It's kind of a perfect storm.
Sexiness in character design is also a bit of a tricky subject for me. I grew up Baptist (don't drink, don't smoke, don't chew, don't go with girls who do), but I'm not Baptist anymore. My current theology regards the old, '80s Baptist prudery (Whoa! She's showing navel!) as legalism worse than Rome's, because in Rome you can actually get absolution. Indeed, we should not lust nor inflame lust, per the Sixth Commandment. But if putting sexy characters in stories is only and always violating the Sixth, then putting badass characters in stories is only and always violating the Fifth.
Add on top of this the fact that the Social Justice religion has turned to prudery that would make a Puritan blink, and I don't want to de-sexyify Wren. I want to spit in the eye of my ideological enemies, as long as I can do so at no expense to the story.
And then, making a JRPG with navel in it is a good way to get retweeted by Mark Kern. I probably should ignore that, but can I?
Yesterday, I had to go sell jam at market, and my crisis of conscience reached a head. By the time I got home I was resolved to redesign Wren. I decided my chief guiding light would be character itself. I needed to find an outfit that was true to the character, but still optimized for animation.
I tried just making her wrap a tank top.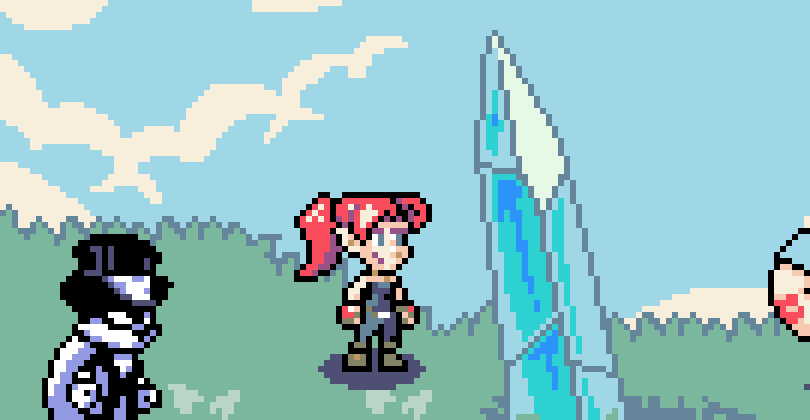 It didn't feel right. I considered that Wren must spend 90% of her time on an airship, working and living by herself. I considered that Wren, often as she faces human foes, faces therians, with power levels that make the differences between humans largely irrelevant.
And I kept coming back to this sprite:
She's got a pugilist look. Lady boxer kind of thing going.
The design works. It's consistent. It makes sense. But does it make sense for Wren?
Let me consider the mechanics of her world. The setting is early firearms. Swords and guns and light armor are the norm. Pistols are single shot, but devastating weapons, but not much use against aether shields. However, inside towns, chaos fields are erected that repel therians and prevent the efficient use of aether arts. The average adventurer is going to favor one or two pistols, a smallsword as a sidearm, maybe a spear for genuine combat, and everything is going to be as enchanted as possible, to give him a fighting chance against wild therians.
Wren is not the average adventurer. She is a wizard in her own right, able to manipulate aether directly and to craft her own Arts. But pistols and a smallsword still kind of make sense. Pugilism kind of works anyway for her. Not as a serious tool against man and beast, but as a backbone for an energy based fighting style. Using aether to DBZ foes.
Maybe she just likes boxing.
Maybe her wizardry is optimized for use with fisticuffs because there was a boxing class in college and she took to it like a fish to water.
So, in summary:
I had a moral dilemma weighing on my mind because my character dresses too much like Shantae. I thought about it long and hard, talked it over with my wife, considered some relevant theology and…
…Decided to make her shirt two inches longer.
This may not be where the journey ends, but at the moment, this feels right. I don't know why. It's such a tiny change. But here we are.